On "Flores Highway" to the Komodo Dragons
Packages for Flores Overland & Komodo Tours
From 6 Days till 10 Days or even longer
(including travel days from/to Bali or Jakarta )
The two unique tourist attraction that are world-famous and can only be found here, are the prehistoric Komodo dragons on the Islands Komodo and Rinca and the 3-coloured lakes of the volcano Kelimutu on Flores Island.
There is only one road from Eastern Flores to Western Flores and we lovingly call it "Flores-Highway". From Maumere to Labuan Bajo the way is "only" 550 km, but as the landscape is very mountainous and the streets are not always in good condition, you need 20 hours driving time for this route. In order to have enough time to visit all the attractions without hurry, we recommend to allow at least 4 days for the trip from Maumere to Labuan Bajo or vice versa. It is possible to integrate side trips and hiking and snorkeling aktivities. You will find an extract of our tour offers with pictures and further descriptions here on our website.
All tours can be tailored to your interests and wishes.
---
Short tours to the Highlights of Flores (Comfort Tours)
Komodo Tour Package
3 Days/2 Nights
(including travel days from/to Bali or Jakarta )
A unique attraction, which is world-renowned and found nowhere else are the prehistoric Komodo lizards living on the Islands Komodo and Rinca in West of Flores Island. As Rinca Island is more scenic and located closer to Labuan Bajo, we recommend day boat excursion to Rinca Island to see the Komodo dragons. If you do a 2 Days/1 Night boat tour you can visit both Komodo Islands and have planty time for discover the famose underwater world of Komodo Nationalpark, see Pink Beach and climb on Padar Island for spectacular views.
---
Kelimutu Tour Package
3 Days/ 2 Nights
(including travel days from/to Bali or Jakarta )
The volcano Kelimutu with its changing color lakes is an active volcano near the town of Moni in Central Flores in Indonesia.The volcano Kelimutu consists of three crater Lakes, which are colored by minerals. The colors of the Lakes have changed several times dramatically over the last years. The Lunar of the craters is according to the belieft of the locals a hideout of the spirits .
---
5 Days/4 Nights Comfort Flores Highlights Tours
An Flores overland tour by car due to the modest tourist infrastructure and mostly very simple accommodation in some towns deters many from a visit to Flores Island. There is a flight between Labuan Bajo and Ende and also between Bajawa and Labuan Bajo so it is posible to combine the visit of Flores hightlights with a car and Flores Island flights. We designed the following comfortable short tours which are our
BESTSELLER Tours
:
5 Days/4 Nights Komodo & Kelimutu
The prehistoric
Komodo Dragons
on Rinca Island and the bewitched three changing color lakes of
Volcano Kelimutu
(
4 Nights in comfortable Hotel/Resort, flight Labuan Bajo - Ende, 2 Days private car and driver, private boat for day excursion to Rinca Island
)
5 days/4 nights Kelimutu, ethnic villages , Komodo & Pink Beach
Volcano Kelimutu, ethnic villages Bena & Luba, Komodo Dragons on Rinca Island & Snorkeling on Pink Beach during sailing 2 Days/1 Night in Komodo National Park (3 Nights comfortable Hotel/Resort, 2 days private car and driver, flight Bajawa - Labuan Bajo, 2 Days/1 Night private air-conditioned boat with cabins )
---
Flores & Komodo Deluxe Highlights Tour
Volcano Kelimutu & Komodo Dragons
With a flight from Labuan Bajo to Ende it is possible to combine the visit of both main Flores attractions the 3-colored Lakes of the volcano Kelimutu and the visit to the prehistoric Komodo Dragons.
An Flores overland tour by car due to the modest tourist infrastructure and mostly very simple accommodation deters many from a visit to Flores Island. With our Deluxe Tour we offer a Tour with luxury accommodation in Boutique Villas.
---
Cultur - Natur - Hiking & Trekking Tours
Trekking Wae Rebo Tour
4 Days /3 Nights from/to Labuan Bajo
(including travel days from/to Bali or Jakarta )
Wae Rebo is an old village with unique architecture, which is isolated located in a beautiful mountain landscape in the Manggarai in West Flores. Wae Rebo is tucked away in a spectacular surrounding and is only reachable on foot after a 3-4 hour hike. You will be overwhelmed by the calm and the beauty of this place. There is no electricity, no cell phone signal, no Mopeds. You will overnight at the Mbaru Niang the local traditional house.
---
Explore Ngada Villages & Volcano Kelimutu
4 Days/3 Nights Tour from Labuan Bajo to Maumere
(including travel days from/to Bali or Jakarta )
Although Flores Island is predominantly Catholic, there are well preserved traditional villages where still megaliths are alive. These villages are isolated and embedded between two volcanoes Gunung Inerie and Gunung Deru. You can see here a certain form of folk architecture with shrines for male and female ancestors (Ngadhu and Bhaga) in the middle of these villages.The daily life is still influence by animistic rituals and ancestor worship. You can visit the villages Bena and Luba comfortably by with an overnight stay in Bajawa. The visit of another even more isolated Ngadha villages like Desa Gurusina, Desa Belaraghi, Desa Tololela is by hiking from/to Bajawa.
---
Detailed Flores & Komodo Tour with all Highlights
Komodo :: Kelimutu :: Wae Rebo :: 17 Islands :: Ngada Villages
Adventure - Hikking - Snorkeling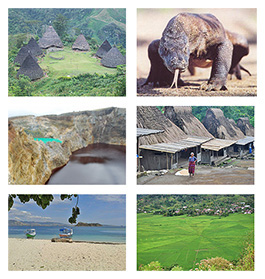 An intense encounter of the various facets of the culture, nature and people on Flores Island including all 3 National Parks on Flores
:: 2 days/1 night Boat Trip to Komodo Dragons on Rinca and Komodo Island including exploring the underwater world in Komodo National Park while snorkeling
:: Snorkeling boat trips in the Marine Parks 17 Island in Riung and in Maumere Bay
:: Volcano Kelimutu & exploring traditional Lio Villages
:: hiking to traditional Ngada villages around Bajawa: Luba, Bena, Tololela, Gurusina
:: trekking and overnight in Wae Rebo traditional Village
:: exploring the traditions of Ikat weaving and dances in Sikka Regancy & Caci ritual whip fight dance in Manggarai.
15 days/14 nights
from Maumere to Labuan Bajo or vice versa
(including travel days from/to Bali or Jakarta )
---